This Sanctuary Sunday Open Thread, with full respect to those who worship God on the Sabbath, is a place to reaffirm our worship of our Creator, our Father, our King Eternal.
It's also a place to read, post, and discuss news that is worth knowing and sharing. Please post links to any news stories that you use as sources or quote from.
In the QTree, we're a friendly and civil lot. We encourage free speech and the open exchange and civil discussion of different ideas. Topics aren't constrained, and sound logic is highly encouraged, all built on a solid foundation of truth and established facts.
We have a policy of mutual respect, shown by civility. Civility encourages discussions, promotes objectivity and rational thought in discourse, and camaraderie in the participants – characteristics we strive toward in our Q Tree community.
Please show respect and consideration for our fellow QTreepers. Before hitting the "post" button, please proofread your post and make sure you're addressing the issue only, and not trying to confront the poster. Keep to the topic – avoid "you" and "your". Here in The Q Tree, personal attacks, name-calling, ridicule, insults, baiting, and other conduct for which a penalty flag would be thrown are VERBOTEN.
In The Q Tree, we're compatriots, sitting around the campfire, roasting hot dogs, making s'mores, and discussing, agreeing, and disagreeing about whatever interests us. This board will remain a home for those who seek respectful conversations.
Please also consider the Guidelines for posting and discussion printed here: https://www.theqtree.com/2019/01/01/dear-maga-open-topic-20190101/
---
Focus on Christ
H/T Bren
[The following applies even more so, as our current Bidenazi administration is literally hell-bent on destroying our rights, our liberty, our justice, our faith, and either disabling or brainwashing our citizens.]
In our fast-paced, attention-grabbing world, it's easy to get caught up in the daily grind, get distracted, and lose sight of our true purpose in life—the worship and love of God (see Matthew 22:37). Yet we're told to run our race with our eyes focused on Christ: "Let us run with perseverance the race marked out for us, fixing our eyes on Jesus, the pioneer and perfecter of faith" (Hebrews 12:1–2). How can we resist the allure of the world and keep our focus where it belongs, on Christ?
To focus is to direct one's attention or concentrate on something. If we are focused on Christ, then He has our attention; we are concentrating on Him and His word; He occupies the forefront of our minds. Such a focus is only fitting, because Jesus "is the head of the body, the church; he is the beginning and the firstborn from among the dead, so that in everything he might have the supremacy" (Colossians 1:18). By rights, He should be our focus.
Colossians 3:1–4 contains much that can help us stay focused on Christ: "Since, then, you have been raised with Christ, set your hearts on things above, where Christ is, seated at the right hand of God. Set your minds on things above, not on earthly things. For you died, and your life is now hidden with Christ in God. When Christ, who is your life, appears, then you also will appear with him in glory." We are to focus on "things above," remembering that Christ is seated in the place of glory and power (verse 1). The reason for the command is also given: because we have been raised to new life with Christ. To focus on the things above, we must consciously remove our focus from "earthly things" (verse 2), and the reason is given: we have died to self, and Christ is our very life (verse 3). Helping us stay focused on Christ is the reminder that Jesus is coming again, and when we see Him we will know glory (verse 4).
Hebrews 2 lists some of the things that Christ has done or is doing for us: He shared our humanity (verse 14), He breaks the power of the devil (verse 14), He frees us (verse 15), He is our "merciful and faithful high priest" (verse 17), He suffered for us (verse 18), and He helps those who are tempted in this world (verse 18). Because of all this, Hebrews 3:1, says, "Therefore, holy brothers and sisters, who share in the heavenly calling, fix your thoughts on Jesus, whom we acknowledge as our apostle and high priest."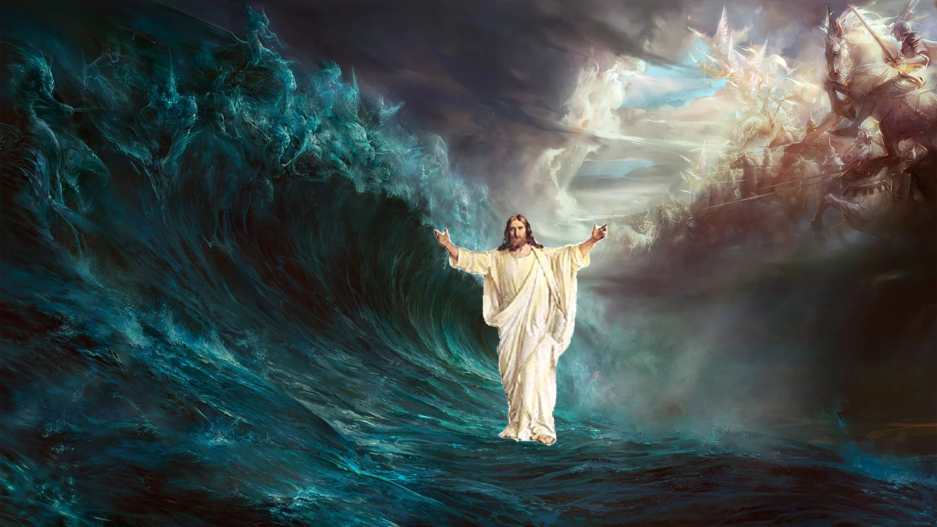 Here are some practical ways for a born-again believer to stay focused on Christ:
Commit to reading the Bible. It is impossible for a believer to be consistently in the Word without having his attention drawn again and again to Christ: "The Scriptures point to me!" Jesus said (John 5:39, NLT; see also Luke 24:44 and Hebrews 10:7). To focus on the Word of God is to have the Son of God brought more into focus.
Develop your prayer life. If you want to know how to pray, read Jesus' instructions to His disciples in Luke 11:1–13. As you speak to the Lord throughout your day, you will naturally be more focused on Him. Little things, big things—we can come to the Lord with any and all of our cares. The command is to "pray continually" (1 Thessalonians 5:17), to always be in an attitude and atmosphere of instant prayer.
Trust the Lord as your only protector: "My eyes are ever on the LORD, for only he will release my feet from the snare" (Psalm 25:15). Once we understand the spiritual dangers we face on a daily basis, we will focus more on Christ, our one and only Savior, who alone has the power of deliverance.
Recognize your need and the Lord as the source of all good things: "Behold, as the eyes of servants look to the hand of their master, as the eyes of a maidservant to the hand of her mistress, so our eyes look to the LORD our God, till he has mercy upon us" (Psalm 123:2, ESV). The world offers various means of obtaining love, joy, and peace, but they are destined to disappoint. The believer understands that love, joy, and peace (and a myriad other fine gifts) are the direct result of his relationship with Christ (see Galatians 5:22–23).
See the world for what it is: a sin-filled place of desperate need. The darker the world is to us, the more clearly the light of Christ will stand out. It's not hard to focus on a light in a darkened room. "We . . . have the prophetic message as something completely reliable, and you will do well to pay attention to it, as to a light shining in a dark place, until the day dawns and the morning star rises in your hearts" (2 Peter 1:19). Those who stay focused on Christ will find their perspective on worldly things changing. As Helen Lemmel says in her hymn, "Turn your eyes upon Jesus, / Look full in His wonderful face, / And the things of earth will grow strangely dim / In the light of His glory and grace."
In John Bunyan's The Pilgrim's Progress, Christian and Faithful go through Vanity Fair, where they are offered "all sorts of vanity." Christian's and Faithful's response is instructive for us: "These pilgrims set very light by all their wares—they cared not so much as to look upon them; and if they called upon them to buy, they would put their fingers in their ears, and cry, 'Turn away mine eyes from beholding vanity,' and look upwards, signifying that their trade and traffic was in heaven" (Part I, p. 86). May we, like the pilgrims in Vanity Town, practice the heavenward-look and keep our eyes focused on Christ, His glory, and His love.
https://www.gotquestions.org/focused-on-Christ.html
Isaiah 25:4 – "You have been a refuge for the poor, a refuge for the needy in their distress, a shelter from the storm and a shade from the heat. For the breath of the ruthless is like a storm driving against a wall."
Psalm 46:1-2 – "God is our refuge and strength, an ever-present help in trouble. Therefore we will not fear, though the earth give way and the mountains fall into the heart of the sea."
A Shelter in the Time of Storm
The Lord's our rock, in Him we hide,
A shelter in the time of storm;
Secure whatever ill betide,
A shelter in the time of storm.
Mighty Rock in a weary land,
Cooling shade on the burning sand,
Faithful guide for the pilgrim band-
A shelter in the time of storm.
A shade by day, defense by night,
A shelter in the time of storm;
No fears alarm, no fears affright,
A shelter in the time of storm
Mighty Rock in a weary land,
Cooling shade on the burning sand,
Faithful guide for the pilgrim band-
A shelter in the time of storm.
The raging storms may round us beat,
A shelter in the time of storm;
We'll never leave our safe retreat,
A shelter in the time of storm.
Mighty Rock in a weary land,
Cooling shade on the burning sand,
Faithful guide for the pilgrim band-
A shelter in the time of storm.
O Rock divine, O Refuge dear,
A shelter in the time of storm;
Be Thou our helper ever near,
A shelter in the time of storm.
Mighty Rock in a weary land,
Cooling shade on the burning sand,
Faithful guide for the pilgrim band-
A shelter in the time of storm.
Vernon J. Charlesworth – 1880
REMEMBER . . .
Rejoice in the Lord always. I will say it again: Rejoice! Let your gentleness be evident to all. The Lord is near. Do not be anxious about anything, but in every situation, by prayer and petition, with thanksgiving, present your requests to God. And the peace of God, which transcends all understanding, will guard your hearts and your minds in Christ Jesus. (Philippians 4:4-7)
---
On this day and every day –
God is in Control
. . . and His Grace is Sufficient, so . . .
Keep Looking Up
---
Hopefully, every Sunday, we can find something here that will build us up a little . . . give us a smile . . . and add some joy or peace, very much needed in all our lives.
"This day is holy to the Lord your God;
do not mourn nor weep." . . .
"Go your way, eat the fat, drink the sweet,
and send portions to those for whom nothing is prepared;
for this day is holy to our Lord.
Do not sorrow,
for the joy of the Lord is your strength."